Kansas City-based plumbing services business headed by John W. Hunt urges customers to address leaking tanks immediately & has expanded services to include emergency water heater repair.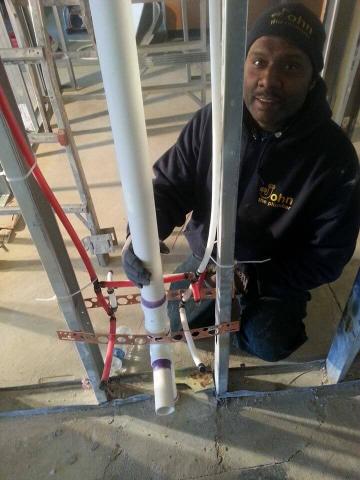 Kansas City, United States - December 6, 2019 /PressCable/ —
John the Plumber, a KC, Missouri-based plumbing services business headed by John W. Hunt, announced the launch of emergency water heater services while committing to helping customers identify signs of trouble brewing inside or outside of their heater, primarily by stressing the fact that a leaking tank is an obvious indicator that should be addressed immediately.
"We are advising our valued customers that the best way to prevent being faced with that one-percent-chance their water heater stops working – or even demands being replaced – is to keep it well-maintained," explains Hunt. "This can be accomplished by calling in a licensed professional to set up regularly scheduled maintenance routines to ensure that their heater runs at peak efficiency, but when an emergency does strike, we will be available for any and all service calls."
According to JTP representatives, rust on a water tank and connections are also indications that the anode rod within is exhausted and that the corrosive elements are now attaching to the unit itself. Further, the temperature and pressure valve, which plays a critical role in the proper functioning of a water heater unit, should be tested annually to ensure it is working properly – specifically, say JTP reps, the "T" and "P" valves.
"If this valve is not properly releasing the excess pressure that can build up inside the tank, it can potentially cause the unit to explode with the force of a small bomb," adds and warns Hunt. "We always advise customers not to block their valve, and if it's leaking, to have it replaced."
For further information visit https://JohnThePlumberKansasCity.com/
For most homeowners, the first sign of a problem is a lack of hot water, or if their water supply is taking an extremely long time to heat up properly, and there are a few reasons why this may occur, according to JTP experts. The heating coil could be damaged or broken, or there may be a buildup of mineral deposits at the bottom of the tank preventing the water from being thoroughly heated. What's more, banging or popping sounds coming from the unit, caused by continuous heating of the tank, could be due to these deposits insulating the heat from the water, ultimately causing the metal to stress and fatigue.
In addition to emergency water heater services including water heater repair, JTP offers plumbing solutions in the areas of sewer and drain cleaning, sewer line repair, rooter service, water lines, gas lines pressure tests, French drains, sump pumps, plumbing fixtures, valve replacements, kitchen plumbing, bathroom plumbing and general plumbing repair.
Specializing in delivering residential and commercial services to KC – in the states of Kansas and Missouri – and Overland Park, Independence, Shawnee and surrounding communities, JTP plumbers bring over 30 years combined experience in all plumbing repair sectors, the business offering same- or next-day appointments when available as well as no-extra-fee weekend scheduling for emergencies.
John the Plumber Kansas City is located at 5963 Paseo Boulevard in Kansas City and can be reached by calling (816) 708-2020. For more information you can also visit their website which is linked above.
Contact Info:
Name: John Hunt
Email: Send Email
Organization: John the Plumber LLC
Address: 5963 Paseo Blvd, Kansas City, MO 64110, United States
Phone: +1-816-708-2020
Website: https://johntheplumberkansascity.com/
Source: PressCable
Release ID: 88937837